The Health and Wellness Committee is a long-standing group that has contributed many impressive projects, including an educational forum on mental health, as well as a talk on brain health. Now focused assisting those 60+ in Inglewood and Hawthorne, the committee has identified gaps in the system and has begun partnering with several groups to help make all our Beach Cities more livable.
Find out how to get involved!
Harriet Chase hzchase@roadrunner.com.
Push To Vaccinate Angelenos Enters New Phase


Tue, Sep 21, 2021 LOS ANGELES, CA —COVID cases are falling but daily death tolls are still high as LA County begins requiring proof of vaccination for entrance to venues.

The summer surge that nudged many of LA's vaccine hesitant to get the shot appears to be waning, but now Angelenos will soon have another reason to role up their sleeves. Deadlines for employee mandates loom, and pretty soon, bars, breweries, wineries and clubs in Los Angeles County will bar the unvaccinated from entering. Major concert venues and professional sports will also require fans to show proof of vaccination or a recent negative coronavirus test.

Read the Full Story at PatchPaige Austin,

Patch Staff
September Is Suicide
Prevention Awareness Month

September is a time to raise awareness on this stigmatized, and often taboo, topic. In addition to shifting public perception, we use this month to spread hope and vital information to people affected by suicide.

Throughout September, NAMI will highlight our new awareness theme, "Together for Mental Health," which encourages people to bring their voices together to advocate for better mental health care, including a crisis response system. NAMI wants any person experiencing suicidal thoughts or behaviors to have a number to call, a system to turn to, that would connect them to the treatment and support they need.

For resources for suicide prevention please go to

Suicide Prevention Month.

If you or someone you know is in an emergency, call

The National Suicide Prevention Lifeline

at 800-273-TALK (8255) or call 911 immediately.

For local support groups and educational programs, visit NAMI South Bay at

https://namisouthbay.com/

Asking for your help: Volunteers for Westside Pacific Villages

Do you know any groups, churches or organizations in or near Hawthorne who might be a source of volunteers for Westside Pacific Villages (WPV)?

The Health & Wellness Committee is partnering with Westside Pacific Villages (WPV) to find volunteers for WPV in Hawthorne. WPV provides a variety of free services so seniors can remain in their homes: driving, friendly visits, errands, tech support, yard work, household chores, walking buddy, minor home repairs, pet care, and more. Volunteers can set their own day, time, frequency and help in whatever ways they choose.

Please send your organizational contacts to Harriet Chase at

hzchase@roadrunner.com

(310) 545-1026.
---
California's Master Plan on Aging:
LWVBC's Zoom Presentation and Discussion


---

The LWVBC Health & Wellness Committee & MB Senior Resources Committee hosted a program 6/22/2021 on The

California Master Plan for Aging

presented by Dr. Donna Benton, Director of the USC Family Caregiver Support Center. Donna worked on the Governor's Stakeholder Advisory Committee for the Master Plan for Aging.

She covered:

• Why the plan is necessary

• Five goals in the final plan

• How to keep California departments accountable

• Recommendations for local actions to improve long term care, wellness, and mental health services

---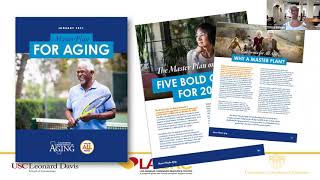 ---